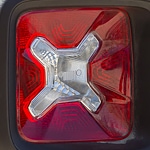 Here at Riverhead Chrysler Dodge Jeep Ram, we want to introduce you to one of the most popular subcompact SUVs on the market. The Jeep Renegade has a broad collection of customizable features so you can create the optimal driving experience for you.
Enjoy the wind in your face with two different panoramic sunroof options, including the MY SKY power removable sunroof, which allows you to remove both panels with ease for optimal airflow. The standard dual-pane panoramic sunroof slides the front panel back with the touch of a button to provide a no-hassle open-air experience. You can also select your wheel and tire combination from nine unique options with a range of different finishes, colors, and sizes ranging from 16 to 19-inches.
Join our team in Riverhead to discover all the different ways you can customize your Jeep Renegade, and take one out for a test drive to see what you've been missing.